Sparking Activism Initiatives Locally
Sparking Activism Initiatives Locally – SAIL is implemented by Co-PLAN, Institute for Habitat Development as part of the 'Advocacy and Watchdog Role of Civil Society' Program, supported by the Public Affairs Office at the US Embassy in Tirana.
SAIL builds on the bequest of the 2016 initiated 'Kindle Advocacy' project, and tackles the need for the newly emerging activists and civil society organisations to articulate evidence-based responses in influencing policy-making in pressing issues related to governance, democracy, city-making, rights, and similar issues that shape and affect the lives of citizens in both urban and rural areas. The project aims to cultivate and boost the internal capacities of local CSOs and young activists to monitor, analyze, and undertake concrete steps/actions through an integral approach, providing the target groups with both capacity development and advocating experience. A tailored capacity development program is envisioned in the form of workshops and coaching components, covering numerous core themes, pertinent to the aforementioned issues. In the process the participants will have improved:
– their understanding of policymaking processes;
– their knowledge of how to engage in policymaking and policy-influencing processes including monitoring, analysing, influencing;
– how to establish dialogue platforms with the local/regional/ and national authorities;
– how to raise particular pressing issues within the sector, and;
– how to initiate lobbying and advocacy actions in view of influencing policy-making.
In the process, all the project findings and results, in the form of policy briefs, recommendations, and awareness raising campaigns will be used for influencing policy- making and policy-implementation of the actual causes of the participating organizations and activists, in structured moments such is the National Activism Day (NAD 2020, NAD 2021), and any other occasions viewed appropriate by the participants.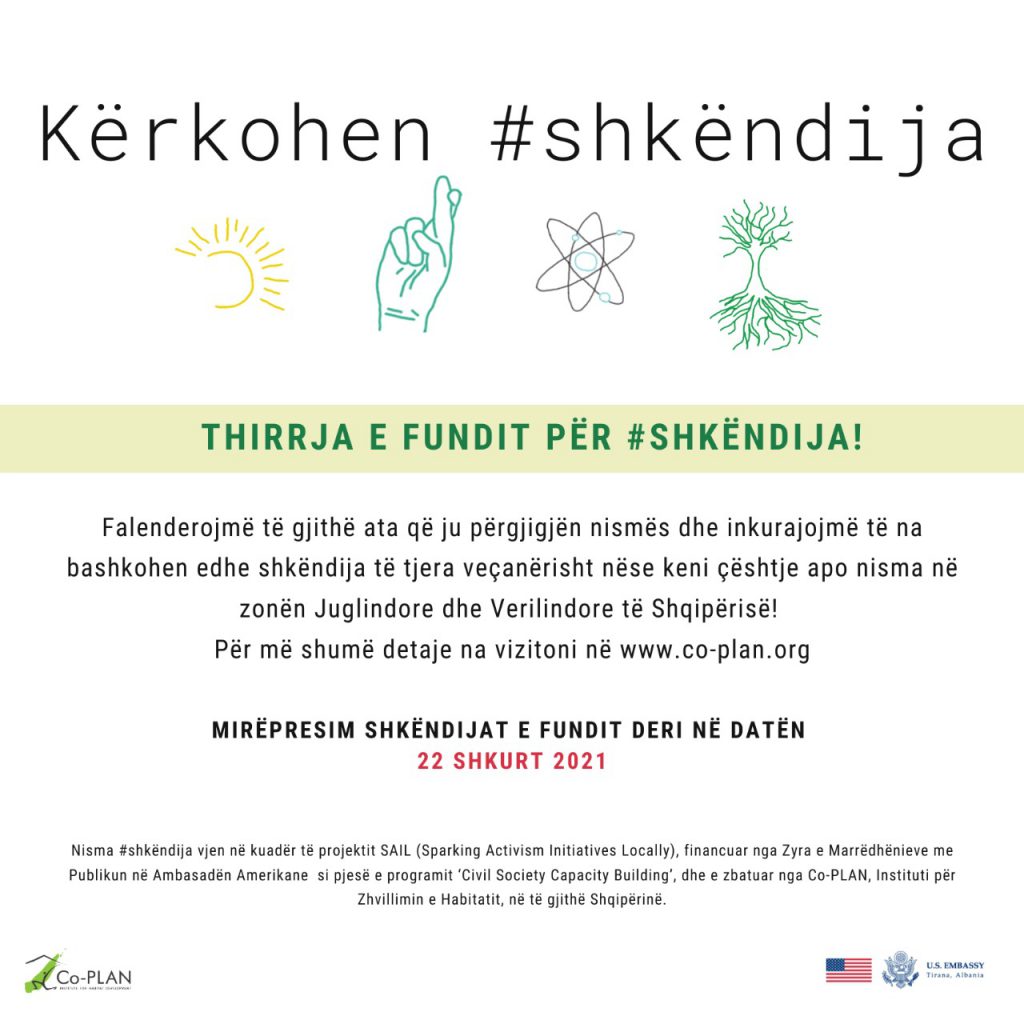 Kërkohen #shkëndija
Vepro kudo je, dhe si mundesh. Bashkoju nismës #shkëndija. Një shkëndijë ndez një mal!
A jeni një organizatë e re, një grup entuziast, apo dhe një individ plot energji kudo në Shqipëri që dëshironi të ndryshoni gjërat për mirë, aty ku jetoni, apo të ngrini një problem që ju shqetëson? A ka diçka që mund të jetë më mire në përditshmërinë tuaj dhe në vendin ku jetoni?
Nisma #shkëndija synon pikërisht këtë – anë e kënd Shqipërisë – kudo jeni, t'ju ndihmojë të ngrini çështje shqetësuese dhe të ndërmerni veprime konkrete për zgjidhjen e tyre. Koha ka treguar, që zgjidhja nuk vjen gjithmonë nga të tjerë dhe që personi më i mirë që mund të ndryshojë diçka, je ti.
Krahas kësaj, nisma #shkëndija ju ofron mundësinë të zgjeroni rrjetin tuaj përmes njohjes me organizata dhe grupe të tjera që janë si ju – energjik, dhe plot shpresë dhe iniciativa për të përmirësuar sado modestisht vendin ku jetojmë.
Por çfarë është nisma #shkëndija?
Ne si Co-PLAN me mbështetjen financiare të Ambasadës së Shteteve të Bashkuara në Tiranë, ideuam nismën/programin #shkëndija si një mënyrë për të mbështetur me njohuri dhe mundësi, dhe për të inkurajuar grupe apo individë të ndërmarrin nisma konkrete për ndryshim me qëllim përmirësimin e jetës së tyre dhe qytetarëve në komunitetin ku ata jetojnë. Ju mund të njiheni më shumë me nismën këtu.
Pse duhet të aplikoni?
Arsyet janë të shumta, por ne po ndajmë disa:
Për të qënë pjesë e një organizimi dinamik rinor që mbështet zhvillimin e komunitetit tuaj.
Për të përmirësuar aftësitë tuaja në ngritjen dhe adresimin e problematikave të komunitetit
Për të kultivuar aftësitë tuaja ndryshim-sjellëse;
Për t'ju njohur me shumë nisma të tjera interesante që janë duke ndodhur që ju mund të doni t'i bashkoheni apo t'i mbështesni.
Pjesëmarrësit e nismës #shkëndija do të kenë mundësi jo vetëm të mësojnë nga njerëz me përvojë, por dhe të këshillohen dhe mbështeten nga ta gjatë rrugëtimit shumë domethënës dhe shpërblyes  të aktivizmit.
Nëse e ndjen thirrjen për t'i shërbyer komunitetit, bashkoju nismës #shkëndija.
Aplikimet janë të hapura deri më 22 Shkurt 2021. Për të aplikuar në këtë program, mund të shprehni interesin duke dërguar një e-mail në: aida_ciro@co-plan.org dhe esmerina_hidri@co-plan.org
Nisma #shkëndija vjen në kuadër të projektit SAIL (Sparking Activism Initiatives Locally), financuar nga Zyra e Marrëdhënieve me Publikun në Ambasadën Amerikane  si pjesë e programit 'Civil Society Capacity Building', dhe e zbatuar nga Co-PLAN, Instituti për Zhvillimin e Habitatit, në të gjithë Shqipërinë.
Pranohen shkëndija deri më 22 Shkurt 2021.