Planning and Local Governance Project PLGP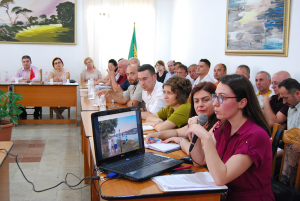 Implementation Period: 2012 – 2017; 2017-2019
Donor: USAID
Fund: 984,599 USD; x
Implemented in: Albania
Implemented by: Tetratech ARD & Co-PLAN
USAID's Planning and Local Governance Project works both at the national policy level and at the local level to gain full acceptance for the principles of decentralized governance and to disseminate and institutionalize practical and effective methods and techniques for municipal management. PLGP works with thirteen "partner" local government units including six model municipalities: Tirana, Durres, Fier, Lushnja, Berat, Kuçova, Patos, Vlore, Saranda, Elbasan, Korça, Vora, and Kamza and encompasses four main areas of endeavour: 1. Support the Government of Albania with Implemention of Effective Decentralization Policies and Legislation; 2.Improve Local Governance; 3. Improve Management of Local Services; 4. Assist the GoA and Local Governments to Plan and Manage Urban and Regional Growth.
In the framework of Planning and Local Governance Program (PLGP), Government of Albania and selected local governments, was provided technical assistance in developing skills and knowledge to draft territorial plans in accordance with the Law on Territorial Planning. At central level technical assistance was provided to the National Territorial Planning Agency (NTPA) via trainings and coaching how to implement the general local territorial plans; Citizens, civil society groups, businesses, NGOs, and other groups are provided with opportunities to monitor and participate in the process of territorial planning. PLGP also provided technical assistance for five GLTP (General Local Territorial Plans) for the Municipalities of Fier, Lushnje, Berat, Kuçovë, Elbasan. The GLTPs are conceptualized as comprehensive and integrated documents and blueprints, so that local authorities and citizens can better plan for social, economic, physical, political, aesthetic and any other issues that help municipalities to achieve their overall development goal. Co- PLAN has worked intensively with all five model municipalities to draft the GLTPs, with all their integral documents and approve them on local and central levels. The trainings, as to NTPA, were also provided to the municipal staff and members of local municipal councils, as essential actors in territorial planning process.
With the support of PLGP, experts of Co-PLAN have also worked with the 5 municipalities to assess their public finance management performance through the PEFA methodology. Moreover, several PPP schemes have been drafted and supported in implementation, in the public lighting sector.
Currently Co-PLAN is supporting the second phase of the PLGP project for the period 2017-2019.