EELGP – Empowering Environmental Local Governance Performance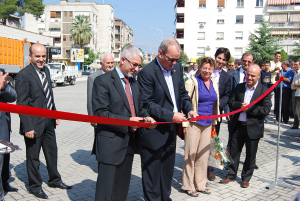 The main goal of the EELGP project is to create an overall national improvement in environmental conditions in Albania. By means of improvement of solid waste service provision through developing tools and indicators for improving the performance of the Municipal Solid Waste Enterprise and Public Services Department of Fier Municipality with the final target to establish environmental standards and benchmarks. The project operates along the following objectives:
Provide the Municipality of Fier with an effective system of solid waste management, based on a soundly thought-out strategy;
Improve human and organizational capacities of the selected LG to develop and implement new effective tools such as cost recovery service and waste characterization;
Improve solid waste service infrastructure through direct investment co-financed by municipality;
Use ISWM (Integrated Solid Waste Management) and EMS (Environmental Management System) methodologies to start a process of improvement in environmental management within the Enterprise;
Raise environmental awareness of staff within the Enterprise;
Demonstrate benefits to the local community;
Disseminate experiences in such a way that other local government units are attracted, challenged and encouraged to minimize the environmental impacts of their activities.
Expected results: Demonstration to the LGU examples of EMS and ISWM implementation will provide them with: substantial savings on their everyday resources, improved environmental performance, managerial systems and patterns of behavior of the staff. The set of EMS benchmarks to be developed within this project will allow for the improvement of standards of performance of the selected service. It is expected that EMS implementation at the level of Albanian Municipalities will be stimulated, by providing an example that can be followed and by proposing indicators and environmental benchmarks for EMS. Finally, linkages established due to activities aimed to integrate Albania to EU will result in fruitful cooperation and experience exchange between Albanian and European municipalities.