Monitoring the Implementation of Local Budgets in the Municipalities of Fier and Shkodër
Wednesday September 6th, 2017

2513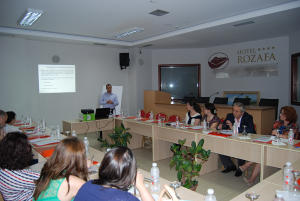 Implementation Period: 2013 – 2014
Donor: Open Society Foundation for Albania ( SOROS)
Fund: 23,960 USD
Implemented in: Municipalities of Fier and Shkodër, Albania
Implemented by: Co-PLAN
The project "Monitoring the Implementation of Local Budgets in the Municipalities of Fier and Shkodër" focused on transparency and accountability of finances on a local level. The project, which was in full compliance with the good governance and accountability principles, sought to nurture the dialogue between civil society organizations and local authorities, as well as citizens/media and local authorities. The project had an overall goal of providing data that taxpayers can use in exercising their right to require feedback on planning and the use of public funds. More specifically, the objectives of the project were:
1. Developing a methodology for monitoring of local budgets and testing it in two mid-level municipalities (Shkodra and Fier) in a period of 3-4 years focused on the current of governing mandate;
2. Breakdown of financial data on the implementation of the budgets during these years, in concrete terms of services and benefits for citizens;
3. Presentation of these data in community meetings with citizens in Shkodra and Fier (at least two meetings in each city);
4. Visualization and enabling the use of the financial data in long-term via the online platform that is being set up by OSFA.
A substantial part of the project is focused on developing a methodology and set of criteria, which will be used to monitor the implementation of local budgets in the two pilot municipalities.