City for Citizens, Citizens for City
Wednesday September 6th, 2017

2201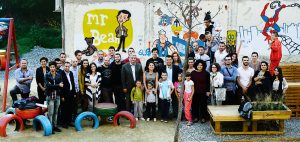 Implementation period: 2013 -2014
Donor: Slovak Institute for Governance under the European Union Program "City for Citizens"
Fund: 11,000 EUR
Implemented in: Tirana, Albania
Implemented by: Co-PLAN, in collaboration with the municipality, No.11 – Tiranë
The project City for Citizens, Citizens for City encourages active European citizenship, through local level forms of civic engagement. The project, which is funded by the European Union under the Europe for Citizens program (Action 1), is being implemented simultaneously in Albania, Slovakia, Romania, and Czech Republic.
The objectives of the project City for citizens, citizens for city are as follows:
1. Promoting volunteering on local level, increasing awareness on volunteering as one of the forms of civic engagement and its benefits for whole society, demonstrate municipalities how to encourage volunteering
2. Encouraging active European citizenship and identity
3. Collecting and promoting the examples of best practice of cooperation between the municipalities, civil society organizations and citizens reflecting European democratic values such as common good, rule of law and openness with a special focus to use of new information and communication technologies as tools for enabling and encouraging civic participation.
Co-PLAN, as the implementing partner in Albania in collaboration with the Municipal Unit no. 11, worked on the identification, conceptualization and concrete realization of an urban intervention in a Lapraka Neighborhood. The community's reported lack of public space for them and children to socialize and engage in outdoor activities, was materialized into a project which was implemented together with the community, mainly relying on recyclable materials. During 2014, Co-PLAN participated in the final conference of the City for Citizen – Citizen for City project, and presented the intervention performed in Tirana. It also summarized the methodology, and main lessons learnt into an article, also part of the project publication.