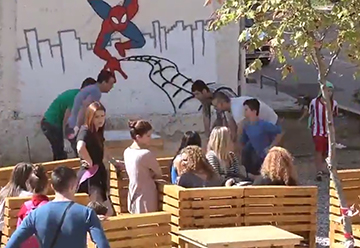 Wednesday June 14th, 2017

3554

The Austrian Ambassador in Tirana, HE Johann Sattler, visited U_POLIS this morning as part of the Open Forum Series delivering a most interesting discussion on Albania-Austria relations, some key EU integration related considerations, and an inspiring call for proactively embracing change.

U zhvillua sot seminari i parë i Shkollës së Aktivizmit të Informuar, mbi ciklin e Politikave Publike, ku aktivistë dhe organizata të Shoqerisë Civile kanë ngritur çështjet e tyre me interes publik si: çështja e HEC-eve në lumin Shkumbin, Urbanizimi i Parkut të Karavastasë, dhuna me bazë gjinore, etj. Falenderojmë të ftuarit e parë që ndaë ekspertizën dhe eksperiencën e tyre, Z. Besnik J. Aliaj dhe Zj. Brizida Gjikondi.